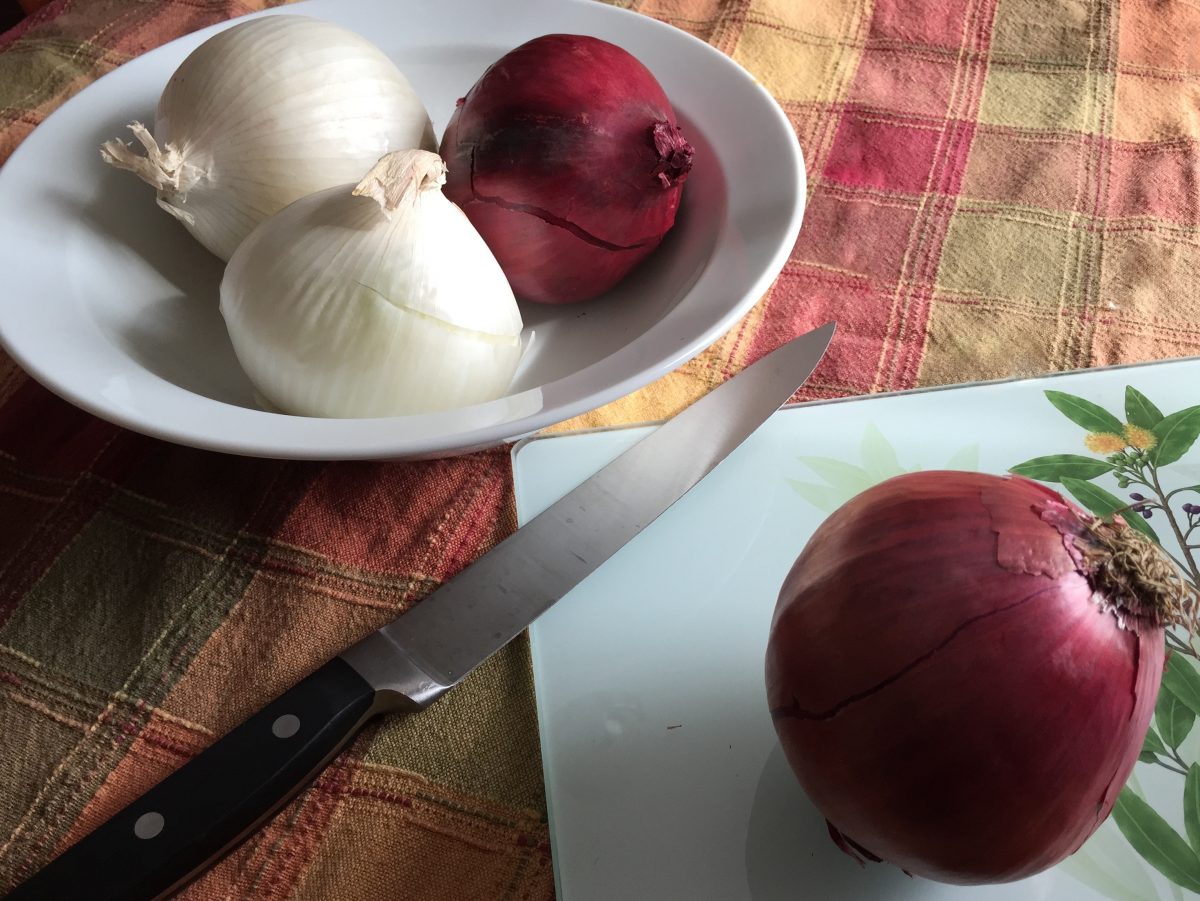 I have, somewhere in my notebook of personal recipes that I love, one I used to make often for stuffed tomatoes. I LOVE that recipe, and it's easy to make, and someday I probably will share it with you… but I haven't made it in a LONG time because the Joy Makin' Mister does NOT like tomatoes. At all. So I needed to stuff a different vegetable and I thought…well, what about an onion? They're big… juicy… flavorful… and they handle being roasted well. I haven't ever tried stuffing zucchini for the simple reason that I think zucchini does best with just enough cooking, and stuffing it and then trying to make sure the stuffing is hot and the zucchini isn't overdone sounds like something that would make me a candidate for Pinterest Fails. I'll leave it to the pros. (Unless you have a hot tip for me? Let me know.) The answer is YES, you can stuff an onion. And it's not as hard as you might think.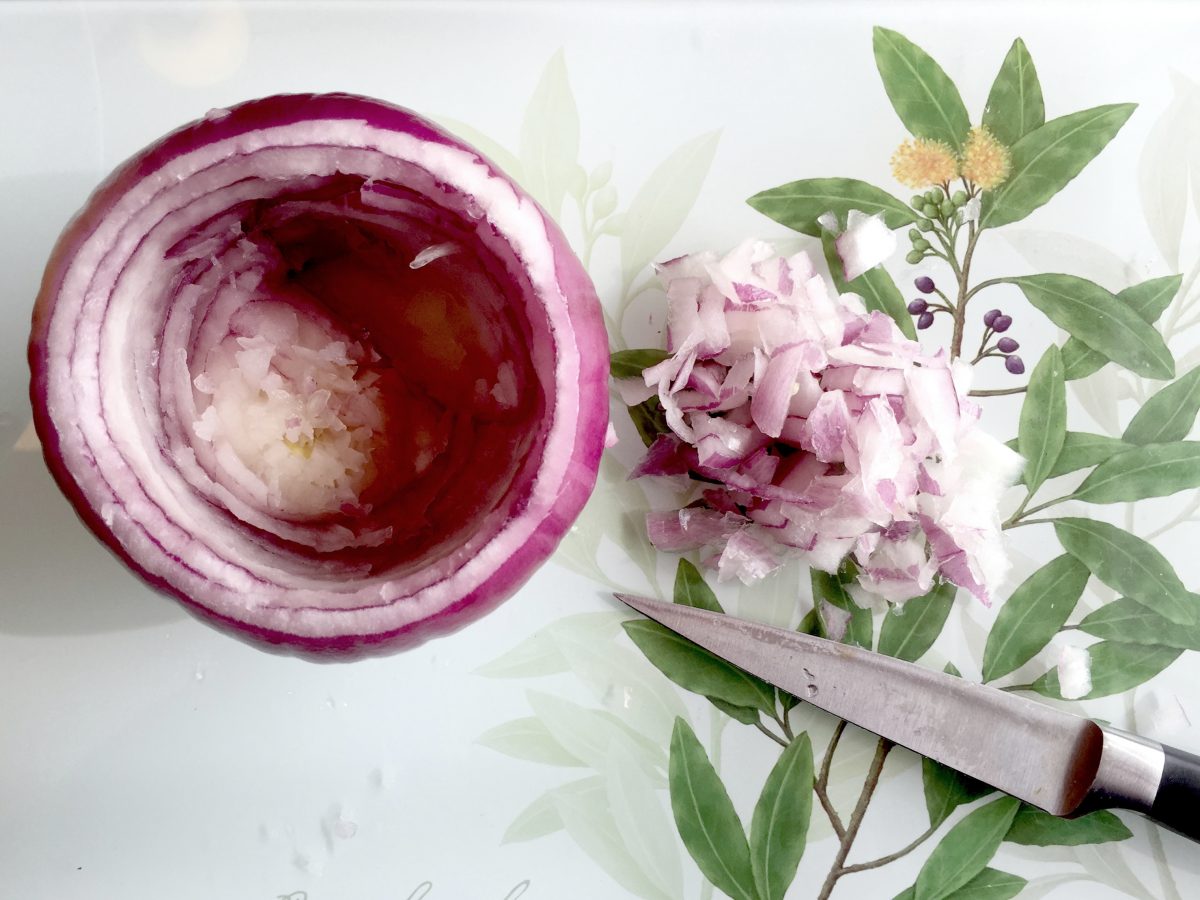 After I sliced off a small piece from the bottom to give it a flat base, and a bigger piece from the top to be the opening, I hollowed out my onion. I used a sharp-tipped paring knife and cut around the outside edge in a circle, about one onion ring in from the edge. Then I made cuts out from the center like the spokes of a wheel, and then I worked out from the center in a series of diagonal cuts until all the onion inside was removed, and I had a hollow, flat bottomed onion ready to take the stuffing. If I were in a hurry, I would have made a straight cut almost all the way across the bottom like a flap, and then cut down the part of the onion I was going to stuff on one side only, so I could extract the contents and then pushed everything back together… but I might have had to wrap them in foil afterwards to keep them from coming to pieces in the oven, and I decided not to get involved. Maybe next time I make these I'll be in the mood for a surprise and I'll give it a try… or maybe not.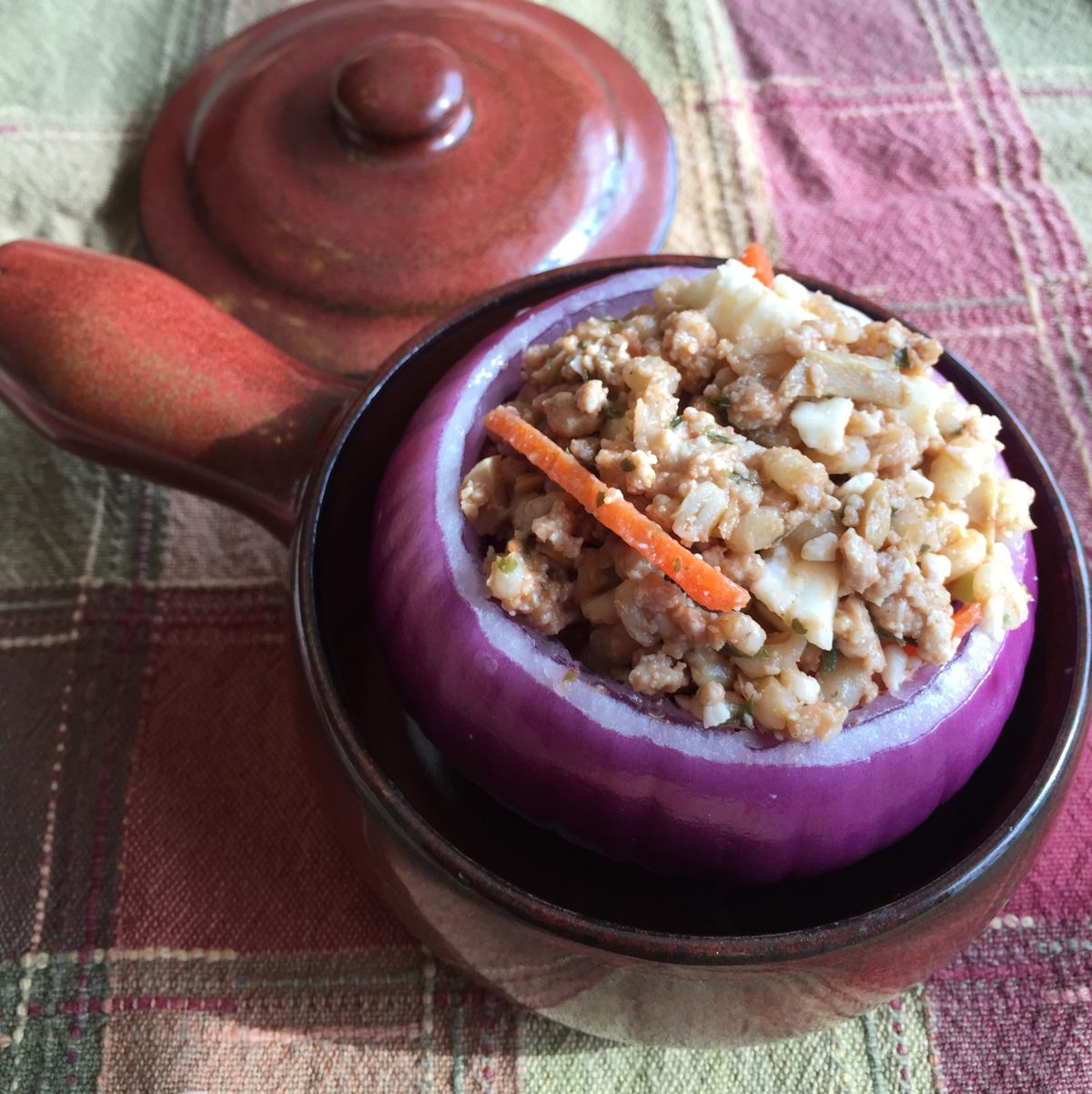 The cute little casserole I found at the thrift store coincidentally is a perfect fit… but you can stand your onions in any baking dish or even on a cookie sheet. Depending on the size of your onions, the stuffing recipe may yield more than you need. You can bake any extra stuffing right in a casserole dish alongside the onions.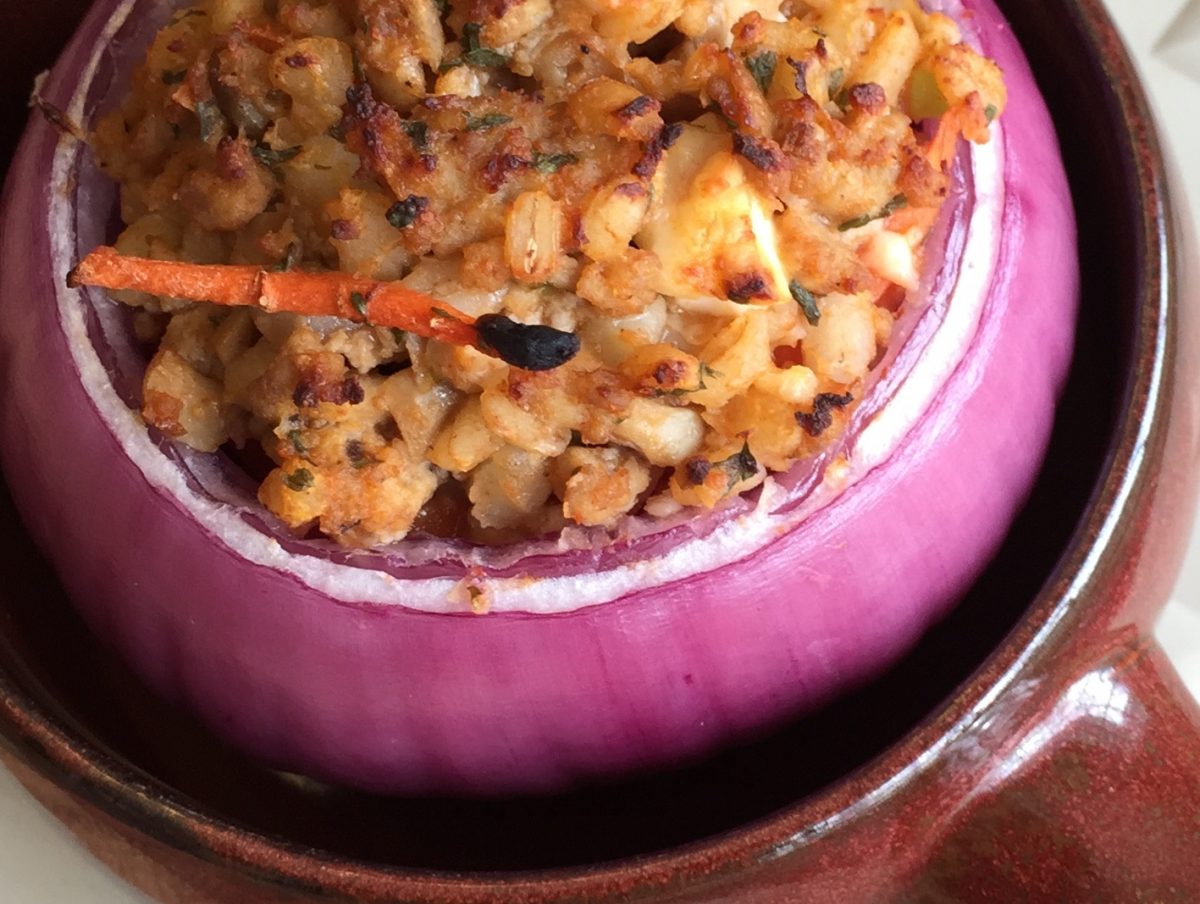 The finished onions look beautiful and fancy when you serve them, and no one will guess that they were basically no trouble at all to make.
Print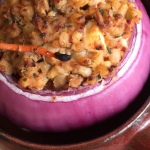 Stuffed Onions
This recipe doubles well. Make one batch for now, and one for the freezer. You can freeze the onions pre-stuffed, or freeze the stuffing and then thaw it and stuff your onions before baking. Both ways work! Just separate the layers of stuffed onions with parchment paper before freezing and you can take them straight from the freezer to a baking dish.
Total Time
1
hour
30
minutes
Ingredients
6

large onions

hollowed, reserve 1 cup chopped onion for stuffing and save the rest for another use.

1

cup

pearl barley

2

cups

chicken broth

1

Tablespoon

olive oil

3

cloves

garlic

minced

1

pound

ground chicken

1 4

oz

can mushrooms

chopped

8

ounces

reduced fat feta cheese

crumbled

1/2

of a 10.75 oz can condensed tomato soup

1/2

teaspoon

ancho chili powder

1/2

teaspoon

sea salt

`1/2 teaspoon black pepper

1/2

cup

matchstick carrots

1/4

cup

parsley flakes
Instructions
Combine broth and barley and bring to a boil. Reduce heat to low and cook 45 minutes or until tender but still holding their shape. Drain any excess broth and set barley aside.

Preheat the oven to 350 degrees F and spray your baking dish with non stick spray or olive oil mister.

In a large skillet or wok, heat the olive oil over medium high heat. Brown the garlic and reserved onion until the onion is translucent. This takes about 3-5 minutes. Add chicken and brown thoroughly. Drain.

Combine barley, chicken, mushrooms, feta, soup, chili powder, carrots, salt, pepper, and parsley flakes in a large mixing bowl.

Arrange onions on baking dish and fill, mounding stuffing slightly above tops of the onions.

Bake at 350 degrees for 30 minutes or until the tops are browned and they are sizzling.