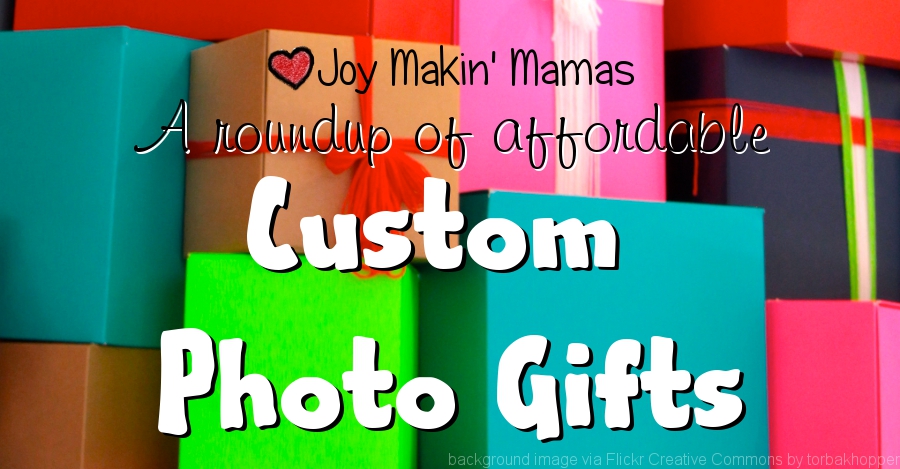 Photo gifts are the epitome of creative, personalized giving. One of my favorite, budget friendly gift ideas came from my friend, JMM Mary S when I asked for ideas for my mom for Mothers' Day, several years ago. She suggested I purchase my mother an 8×8 photo scrapbook, and create additional pages in installments. I have given her sets of pages for birthdays, Mothers' Day, and Christmas ever since.
To make this idea even more flexible, most photo publishers offer bound photo books in an 8×8″ size, and when you can catch a sale, that is a very affordable way to present your pages. You can also save your page as an 8×10″ image with 2″ of white space and have them printed anyplace that does 8x10s, if you don't have a high quality photo printer. (Yes, photo paper for your home printer DOES make a difference. I showed my husband the same photo printed on plain paper, acid free card stock, and photo paper, and he could not believe the difference. Operating our printer costs much less than sending our printing out, but our prints look amazing.)
You do not have to shell out a lot of money for supplies or tools to scrapbook your family photos for photo albums or personalized calendars. Craft Artist Compact is a free digital scrapbooking software that makes the layouts and editing simple. They also offer some free digital scrapbooking kits, and the software allows you to import free kits from other sources. You can customize the page size and create custom greeting cards, as well!
Affordable Photo Gift Roundup
Photo Ornaments

Customize your own photo travel mug
Order Bound Photo Books
You can upload your 8×8 photo scrapbook pages to places that sell photo gifts and have them bound into a book. Most photo printing places offer these, and they are great when you have a lot of pages to print, or if you want to showcase a particular event like a family vacation, wedding, or milestone birthday all in one place. Coupon codes for at least 50% usually start flying thick and fast in October, so if you're watching you can save some $$.
Save Time with Automatic Photo Books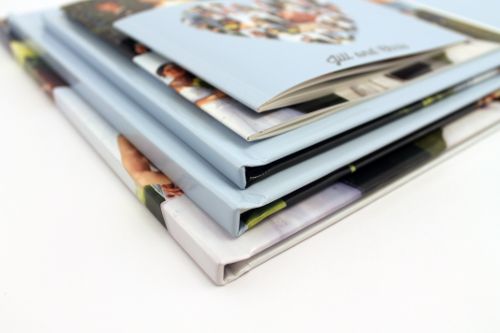 I've used the "auto compose" function in most of the available photo printing websites, and they are great time savers. I usually prefer to compose my own pages, though, because I enjoy the creative part. And the easiest way to do that is usually to create each page manually, one at a time. Collage.com gave me the opportunity to try out their platform in exchange for my honest feedback, and I have to say they have made a huge improvement in this software.
They've streamlined the creation process. You upload a folder of photos from your computer or import them from your social media accounts (I didn't try this part, as I had photos set aside to use for my trial already, but if it works as seamlessly as the rest of the process, you should have no trouble) and select "autocompose." Collage.com will arrange the photos you selected, in order, in attractive collage layouts. You can then pick up and drag photos from page to page, re-order pages, add and remove photos, or, my personal favorite- use the mouse to move a photo within a page and change the collage layout. You don't have to select the page and go through a three step process to change the look of it… just drag the pictures until you like it. There doesn't seem to be any way to add text to the pages or cover, so I suggest that if you can't live without captions, you add them to the photos with an editing program before you upload them. Even with my perfectionism and need to add more content than would fit within the number of pages I had selected, I still created two photo books in about half an hour, while multitasking. They arrived at my door six days after I pushed the "checkout" button on my cart- so five business days handled order processing, printing, and shipping.
I selected a hardcover and a softcover book. The quality of the printing on both is superior to my home printer. The interior pages have what I would describe as a satin finish, and the weight of the paper is about what you'd expect if you picked up any bound hardback book and flipped through. Both covers have the look of photo paper but are a more durable, wipeable finish. The softcover book is perfect bound with a thick cardstock cover. It's a nice compact, lightweight book that would be great to mail to faraway family. I opted to do the collage cover option, but you can also do a single photo. These are very nice photo books. Right now, you can use this link for 51% off a 20-page 11.5″x8″ Hardcover Photo Book From Collage.com: http://bit.ly/collagepbdeal
Baby's First Photo Album
My kids had something similar to this and loved it. Not only did they love looking at themselves being held by everyone who loves them, they got a huge kick out of turning the pages when they started learning how to call everyone by name.
Other Photo Gift Ideas
Get more great holiday ideas on our Traditions Pinterest Board:
Follow Meghan Gray's board Traditions on Pinterest.