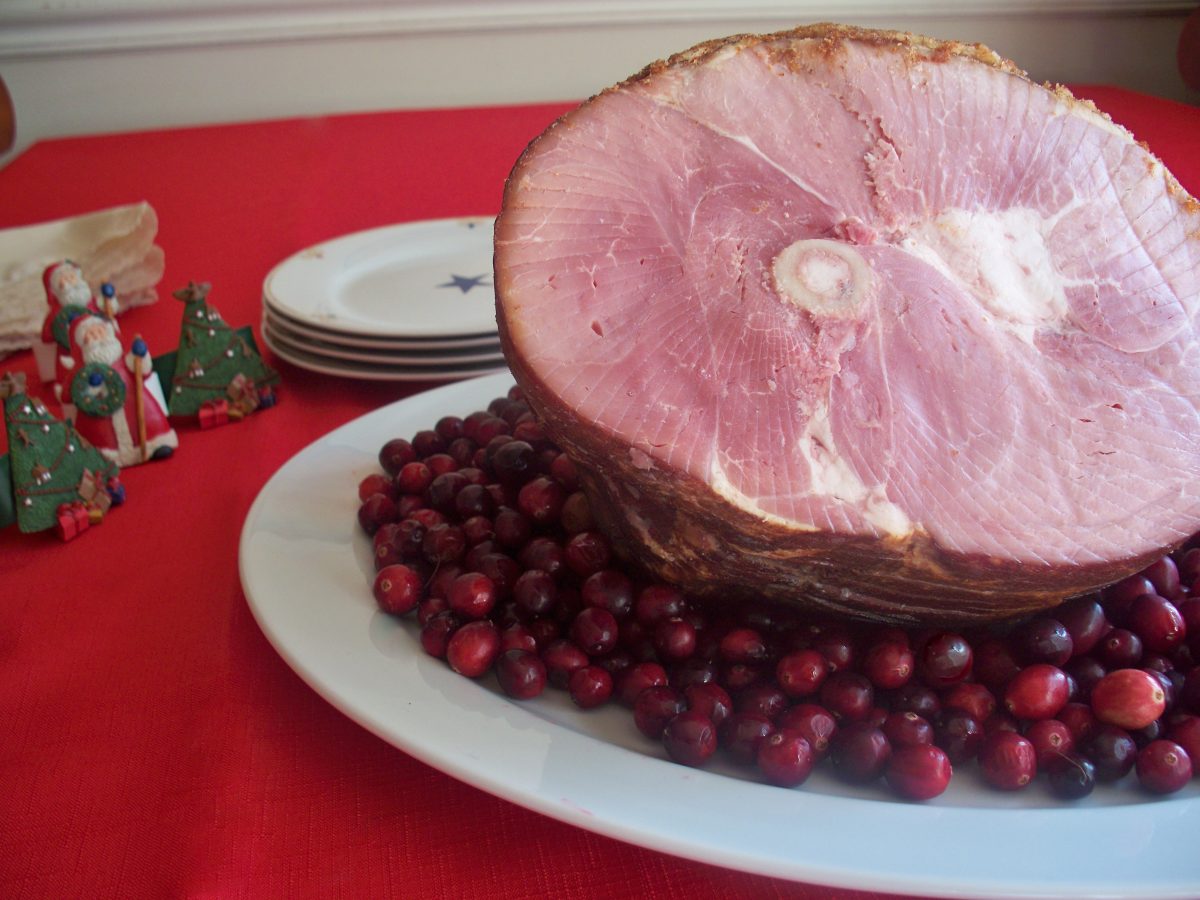 Since I have my two front teeth already, all I want for Christmas is some HoneyBaked ham. Ok, maybe not ALL. I'd also like about 24 uninterrupted hours to tackle my to do list without anyone under 3 feet tall grabbing my posterior to shout HUG HUG HUG just as I pick up a sharp knife, open the oven door, or start stirring something that will burn if I stop. Because that's AWESOME. Wait! I CAN HAVE BOTH! Sort of. Thank you to HoneyBaked Ham for sponsoring this post and for creating a perfect, ready to heat and serve holiday menu with no sharp knives or tedious stirrings. (I can't help you with the oven door, but, as I found out during my visit to their Alexandria, VA store, at least the HoneyBaked sides all cook at the same temperature setting, to make scheduling the oven time easier.)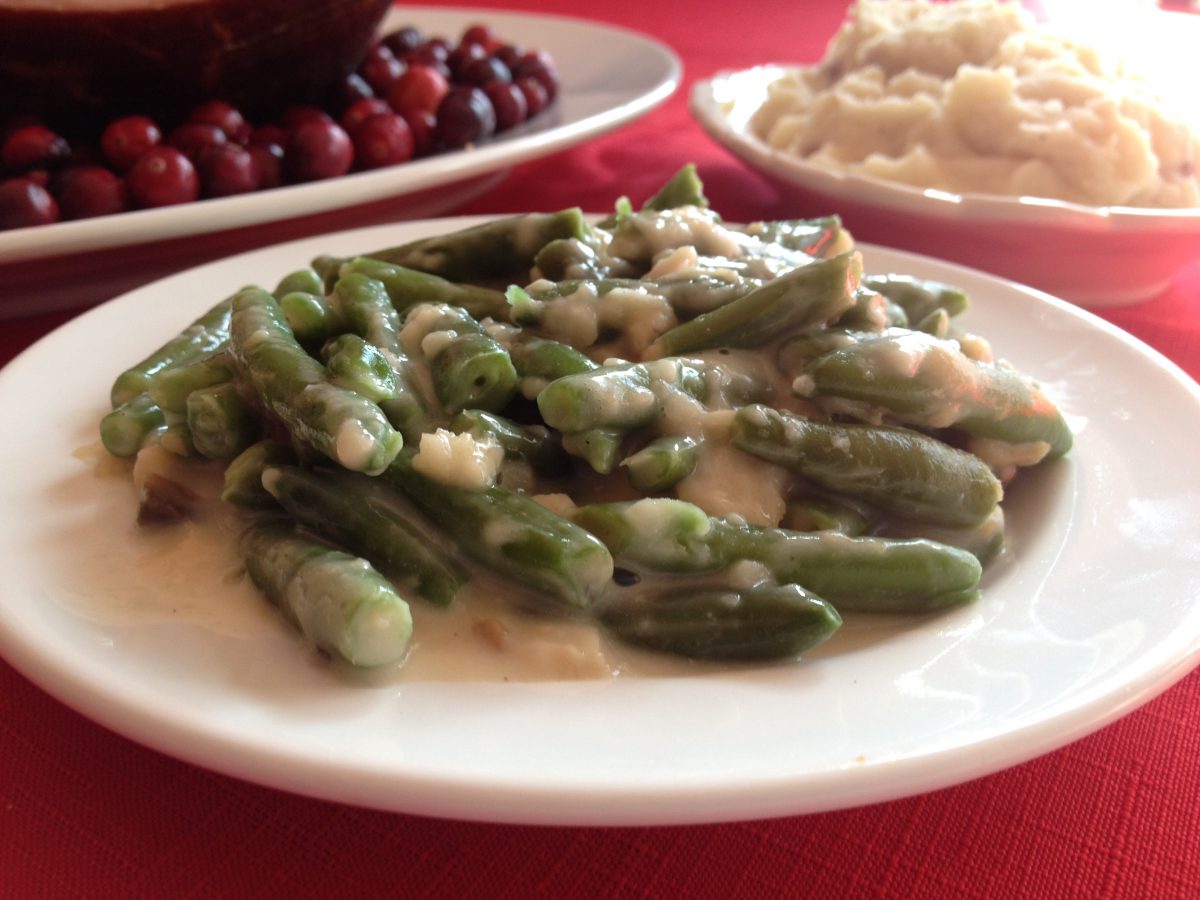 Once you have crossed your main dish (look at that beautiful half ham up there! They have quarter hams, too, if you aren't serving a crowd… or my family, who think there's no such thing as "too much ham.") and your sides off the list, you can free yourself to BE PRESENT. Or to wrap presents or to go caroling or cook a meal for the homeless shelter or just sit quietly and knit and catch up on your favorite show. For some reason the last few weeks of the year always come with at least one moment when I think, "this is NEVER going to get done- I'm just going to be rushing FOREVER." Things always do eventually come together, but if I can simplify things and spend a little more time writing old friends or walking in a winter wonderland or sleeping, then I feel much merrier going into yet another weekend of back to back parties.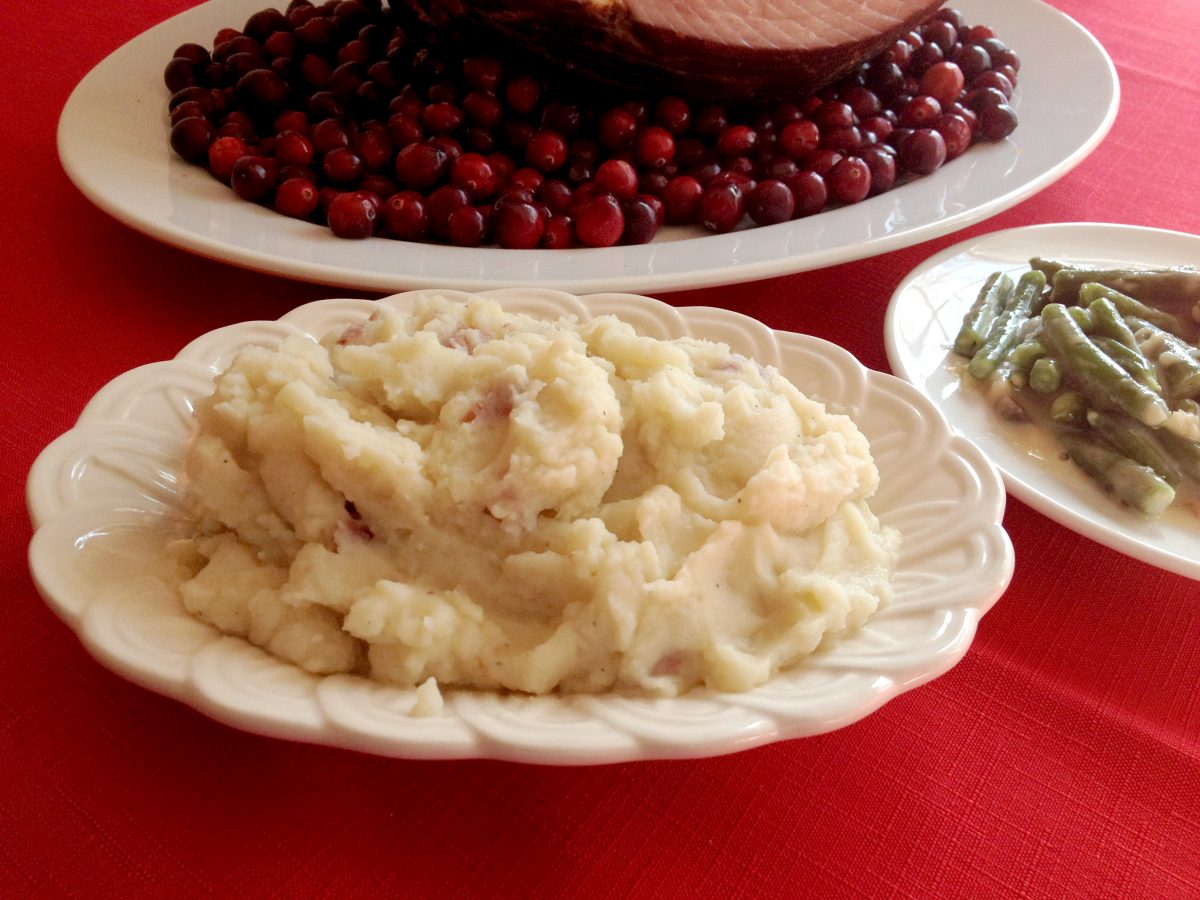 It's always a struggle to try and pack in everything we want to do- so many invitations are forthcoming between Thanksgiving and New Year's. And I never want to miss ANY of them. I want every opportunity to catch up with friends I see too seldom and to make merry with everyone I love- whether they celebrate the same holidays I do or not. So usually what ends up being missing from this season of love and kindness is quiet joy and peaceful reflection. I need those things too. I need to make a commitment to myself to lighten my load where ever I can, so I can make room for them.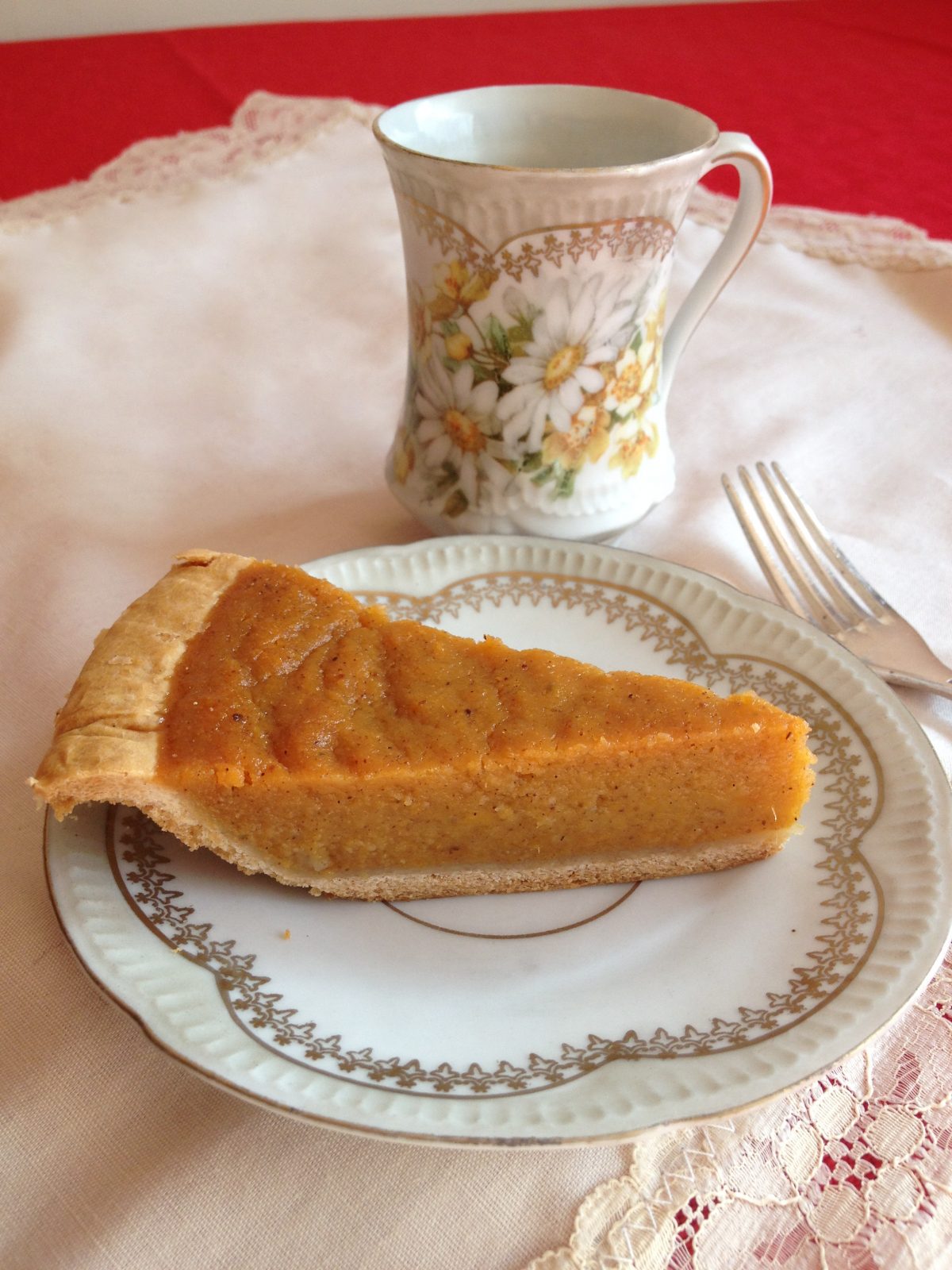 From now until 1/11/15 you can enter to win a $25,000 HoneyBaked Kitchen Makeover when you buy a Ham and Turkey Breast bundle.
Check out this limited time coupon for $8.00 off any Sliced and Glazed Whole Turkey and 4lb Quarter Ham (Or Larger) from HoneyBaked Ham to help you make your holiday dinner easy and delicious! (Offer Valid at Participating Retail Locations: Forestville, Silver Spring, Alexandria, Fairfax, Falls Church, Fields Ertel, Beechmont, Kenwood, Colerain, Florence, Salem, Centerville, Sawmill Road, McNaughten, Louisville, Lexington, Fern Creek, Glendale, Paradise Valley, Superstition, Tucson East, Tucson North, Overland Park, Independence, Barry Road, Norristown, Parma, Willoughby, Rocky River, Strongsville, Maple Heights, Canton, Fairlawn and Chapel Hill.)
If you have any leftover ham, (I know, I'm HILARIOUS!) cut it off the bone, leaving some shreds clinging, and use it to make ham stock! Ham stock makes delicious soups- you've probably had it in split pea soup and Hoppin' John, with a flavor that isn't like anything else. It's also great in chili.
Print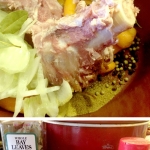 Ham Stock
delicious, flavorful ham stock to use as a base in a comforting soup.
Total Time
8
hours
10
minutes
Ingredients
1

ham bone from 8-10 lb ham

1/2

onion

sliced

1

teaspoon

olive oil

1

clove

garlic

pressed

2

large bay leaves or 3-5 small

2

medium carrots

peeled and roughly chopped

1/2

teaspoon

ancho chili powder

1/2

teaspoon

ground mustard

1/2

teaspoon

paprika

1/2

teaspoon

coriander

1

teaspoon

peppercorn melange

1

teaspoon

coarsely ground sea salt
Instructions
Put bone in slow cooker. Add spices and water to cover

Cook, on low, 8 hours or overnight.

Allow to cool.

Strain ham stock through wire strainer. Reserve any large shreds of ham from the pickings to add to your soup, and discard bones and spices.

Refrigerate or freeze stock until ready to use.
Recipe Notes
If you are buying ham bones instead of using the leftovers from your ham, purchase about 1.5 lbs of bones.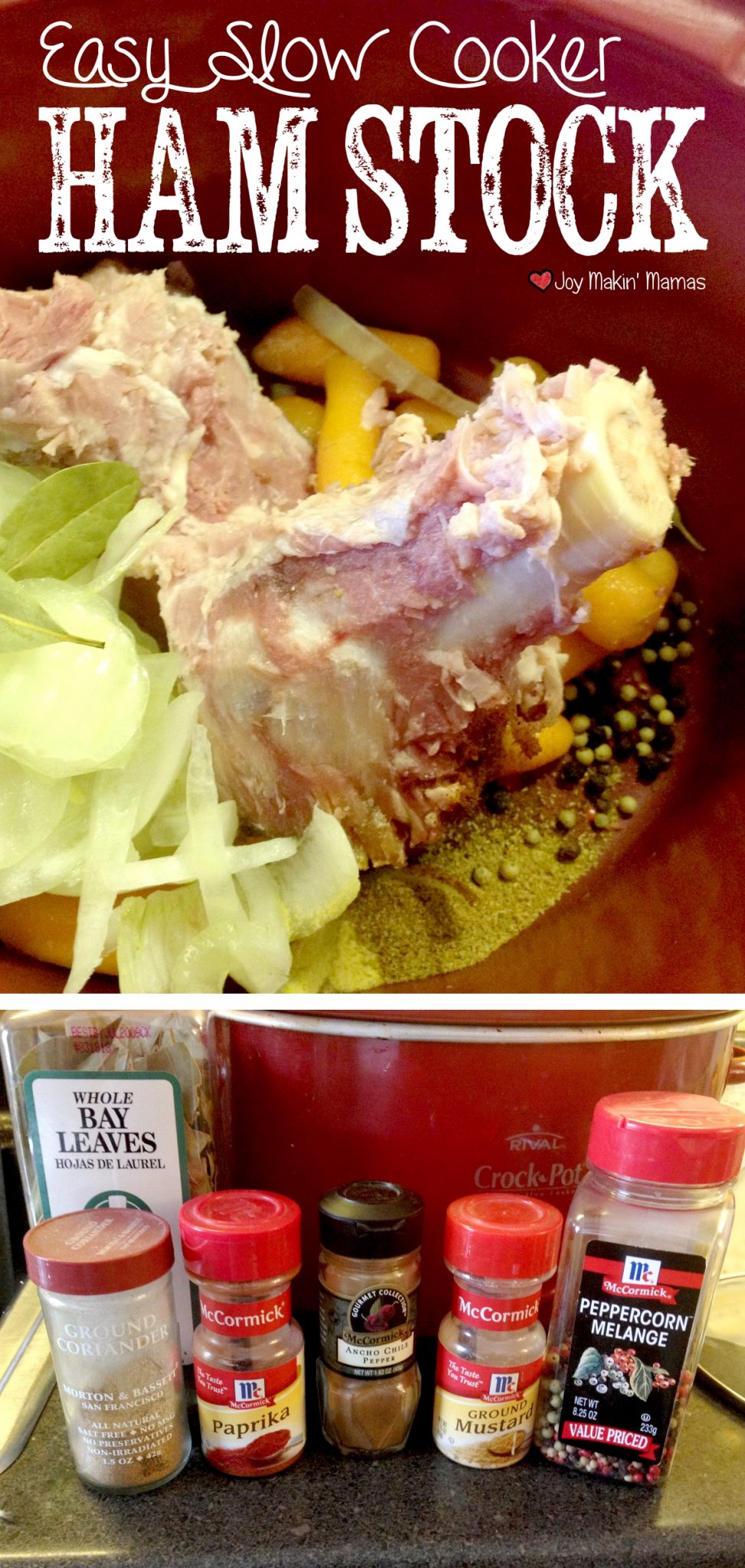 I have been compensated for visiting the Alexandria, VA Honeybaked Ham store and for the creation of this post. My sincere and honest opinions are obviously not for sale and may differ from yours… please enjoy your family celebrations in good health!